W
hen Elizabeth Johnson tries to fall asleep, anxiety often takes over. After going to bed, she starts to relax, but feels as though she is losing control. "Instead of continuing," she says, "I get a sense of panic, a shot of adrenaline and I'm fully awake again." She is describing what it is like to have somniphobia – the fear of falling asleep. "Then I have to do the whole process of trying to sleep again, or give up for the night."
Johnson, 38, from Kansas, has had trouble sleeping and staying asleep since she was seven. It started out as insomnia and a fear of not sleeping, progressing by 12 to a fear of sleep itself. As a young child, she recalls, it was a case of, "When you get to a place where you can mentally fall asleep, you're scared that it's not going to happen this time. Or you're scared that you're going to have nightmares. And then, later, there was another layer of being afraid to fall asleep: because you're no longer aware of what's going on, so you're not safe."
The problems continued into adulthood, peaking when she was 31, waxing and waning according to stress and anxiety levels between being terrified of sleep and what she calls "regular insomnia. Now that things are a little bit better, a good night is five hours, but a bad night is zero to two."
There have been stretches where I haven't been able to sleep for several days in a row. Staying awake at work is hard
Johnson teaches English and history to students with behavioural differences. She also has two children, aged seven and 11, and having a family helps her cope. "I just gotta keep going," she says. "There have been stretches where I haven't been able to sleep for several days in a row. Staying awake at work is hard. And it makes it hard as a parent."
It is not known how many people are affected by somniphobia, because it's not a primary diagnosis. It comes as part of other conditions, from sleep disorders to PTSD. One known cause, says Dr Alanna Hare, a consultant in the department of sleep and ventilation at north-west London's Royal Brompton hospital, is sleep paralysis, "and up to 40% of the population have had that at least once. It can be very frightening to be paralysed and wide awake. You can't call out."
Hare describes this as a "physiological mis-signalling issue, and it probably relates to a slight disturbance in the way in which the body moves into paralysis, which is a normal part of sleep, but it occurs in early sleep or in lighter sleep stages when that shouldn't be happening". It is normal to have it occasionally and it's more likely to happen if you're overtired or stressed. "If it's happening very frequently then that would require further investigation."
As someone who has experienced this from time to time, I can confirm how terrifying it is. The aural and physical force of it overwhelms every nerve ending, but you can't pinch yourself to wake up.
Sleep apnea – when your breathing stops and starts during sleep – can be another cause of somniphobia, says Hare, with sufferers having "dreams about drowning, or they wake up feeling they can't breathe at all".
Treatment depends on the underlying problem, says Hare, with a GP being the first port of call, for a referral to the most appropriate service. "If it's a nightmare disorder, sleep paralysis, acting out in sleep such as sleepwalking, or suspected sleep apnea, it would be a sleep specialist," she says.
These range from respiratory doctors to psychiatrists and neurologists. "If it was felt to be related to panic disorder, generalised anxiety or even part of obsessive compulsive disorder, then that might be more appropriately treated in psychology or psychiatry services. The important thing is that people know how to seek help, and that this can be managed, addressed and improved."
Brandy Clear, 37, is a mother of five who works in customer service and lives in New York. She writes about her mental health experiences, including heroin addiction as a teenager, and her lifelong struggle with somniphobia. "I recover loudly, so that those who are suffering in silence know they are not alone," she says.
She was afraid of going to sleep from the age of six or seven. When she was nine her mother took her to a doctor, who prescribed an antihistamine and sedative. "It would help me fall asleep and stay asleep, but it was hard to wake me up in the morning and I didn't like taking it." So she stopped. "I started forcing myself to stay awake, because I didn't want to fall asleep. Eventually, my body would get so tired that I would just fall asleep. There was no fighting it; I would just shut down and pass out. But I would never sleep for longer than about six hours."
Reach out to friends or to your doctor or a therapist. You're not the only one in this situation
When she was 13, however, she slept so little over a week that she became delirious and was hospitalised. "They sedated me for two days. I eventually got into counselling for some other behavioural issues I was having, and I told the counsellor I don't sleep, that I'm afraid. What if my house is on fire and I don't wake up? Or what if a bad guy comes and kills my whole family while I'm sleeping? What if my mom dies on the couch and I sleep through it? I started to have an anxiety attack just talking about it."
At 15 she was prescribed "a very powerful sedative. It's also an antipsychotic, so it stops you from dreaming." This affected her ability to focus while awake, and by 17 she had stopped taking it and was back to resisting sleep for as long as she could.
As the anxiety disorder progressed into later life, she says, "I didn't have to be lying in bed to be afraid. I just had to know it was almost time to go to bed and I would start getting nervous." She has developed some coping mechanisms over the years and says it's not as bad as it used to be. Hypnosis didn't work for her, but meditation does. Bedtime stretching, listening to rain sounds and reading have helped, too. "I still wasn't sleeping for long periods of time because I would realise I was dreaming and would force myself awake."
None of the above solutions works every time, but one thing Clear can count on most of the time is David Attenborough. "I have seen just about everything that man has ever created," she says. "I love all things nature, and if a David Attenborough documentary goes on my TV, I am probably trying to fall asleep."
For Johnson and Clear, trauma exacerbated sleep problems that had already set in. Clear was sexually abused by her late father. "What I was going through made it twice as hard for me to go to sleep at night, because the amount of times I would wake up to him at the end of my bed became ingrained in my brain."
Johnson had a traumatic experience when she was nine, two years into her sleep problems. "I think that's why it got worse. It went from hypothetical fear to having knowledge of things to be afraid of in reality."
Johnson has had multiple diagnoses: "PTSD, depression, anxiety, insomnia for medical reasons, insomnia for mental health reasons, and narcolepsy. They're not sure if the narcolepsy is the result of having insomnia or part of it, because sometimes narcolepsy can cause insomnia."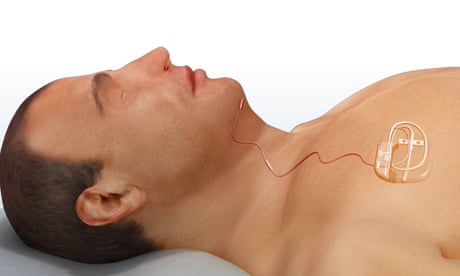 In the seven years since her somniphobia peaked, Johnson has seen sleep specialists and psychiatrists. Through talking therapy she has worked on coping skills and learning to let go of the things that she can't control. "I sat with my therapist and we made a list of the things in my head that my brain roots out to keep me from going to sleep, and we came up with logical counters to those, like: the doors are locked."
Another step was to find ways to relax her brain when she wasn't trying to sleep, "to separate the association between relaxing and being vulnerable in sleep".
Johnson is now on medication to help with her sleep and anxiety. She has set up a support group on Facebook, and her advice to others struggling with sleep is to avoid getting stuck in your head. People may start with insomnia, which triggers other worrying experiences, and then turn to Google and scare themselves even more, she says.
"Reach out to friends or to your doctor or to a therapist. You're not the only one in this situation, and it doesn't have to be long term or every night. It doesn't have to be your whole life, even though it feels like it when you're in the middle of it. And it doesn't mean you're crazy or that you will never sleep again."
In the UK, the charity Mind is available on 0300 123 3393 and Childline on 0800 1111. In the US, Mental Health America is available on 800-273-8255. In Australia, support is available at Beyond Blue on 1300 22 4636 or Lifeline on 13 11 14.
Information and support for anyone affected by sexual abuse issues is available from the following organisations. In the UK, Rape Crisis offers support on 0808 500 2222 in England and Wales, 0808 801 0302 in Scotland, or 0800 0246 991 in Northern Ireland. In the US, Rainn offers support on 800-656-4673. In Australia, support is available at 1800Respect (1800 737 732). Other international helplines can be found at ibiblio.org/rcip/internl.html.
… this Wednesday, we have a small favour to ask. With 2023 gathering pace, we're hoping this new year gives rise to fresh opportunities, better stability and much-needed progress. Whatever happens, the Guardian will be there, providing clarity and fearless, independent reporting from around the world, 24/7.
Times are tough, and we know not everyone is in a position to pay for news. But as we're reader-funded, we rely on the ongoing generosity of those who can afford it. This vital support means millions can continue to read reliable reporting on the events shaping our world. Will you invest in the Guardian this year?
Unlike many others, we have no billionaire owner, meaning we can fearlessly chase the truth and report it with integrity. 2023 will be no different; we will work with trademark determination and passion to bring you journalism that's always free from commercial or political interference. No one edits our editor or diverts our attention from what's most important.
With your support, we'll continue to keep Guardian journalism open and free for everyone to read. When access to information is made equal, greater numbers of people can understand global events and their impact on people and communities. Together, we can demand better from the powerful and fight for democracy.